Timing the sale of your home is never easy. You may have heard that certain periods do better than others but how do you know which is best for you?
It all boils down to supply and demand and how this will affect your selling price. Below, we've highlighted what to consider when you're deciding on when to sell your property.
1.  Phases Of The Real Estate Cycle
The real estate market goes through 4 main phases in each cycle:
Recovery
Expansion
Oversupply
Recession
Understanding these phases will help you identify when it's most appropriate to sell your home.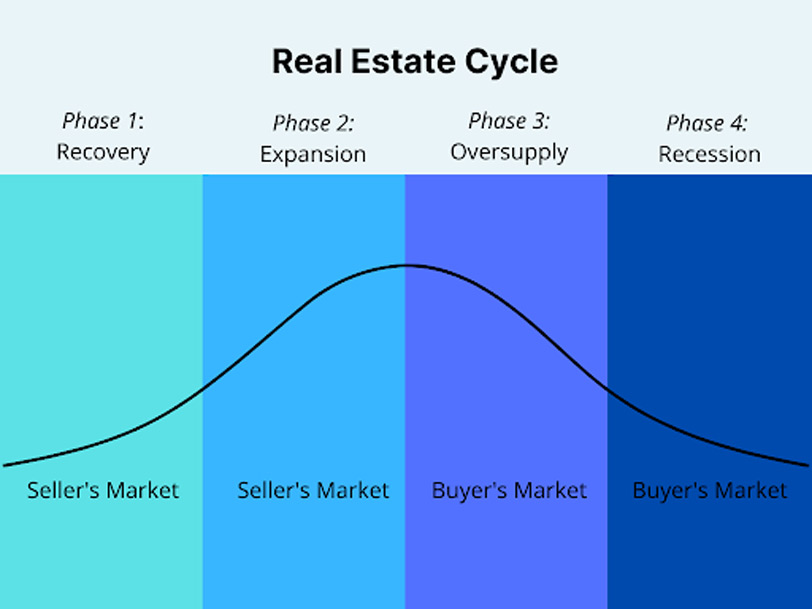 Look Out For The Expansion Stage
While you will see sales and purchases throughout the year, the best time to let go of your property is during the expansion stage. Here, interest rates are low which makes it easier for buyers to secure loans to purchase properties. Also, demand is high because of the market having completely recovered and its generally easier to find new tenants.
The second best time to sell your home is during the recovery phase. This is a popular time for real estate investment since property prices are lower.
How do you identify each phase?
Interest Rates
High interest rates usually happen when the economy is in the recovery phase. This can act as a deterrent for home buyers or real estate investors because it's more expensive to service their mortgage.
Low interest rates usually happen when the economy is experiencing a recession. This will make homeownership more affordable and encourage more real estate investments.
Market Reports
Observing how the real estate market is behaving will give you an idea of what phase it is currently in. If there is increased demand for housing, it's likely that the market has entered the expansion phase.
If supply has exceeded demand and there is a property glut, the market is in the oversupply phase.
Enlist The Help Of A Professional
Sometimes, identifying the cycle of the real estate market can be difficult and may require some technical knowledge. Reach out to CT Real Estate and let our team of professionals assist you.
Nevertheless, the phase of the real estate market is only one part of the multiple factors that will affect the sale of your property.
2. Depends On Area And Type Of Property
Identify what you're working with before you begin trying to time the market.
What is the area and type of property that you're looking to sell? Beach homes for instance sell better during the summer months while homes with gardens fetch better prices in spring.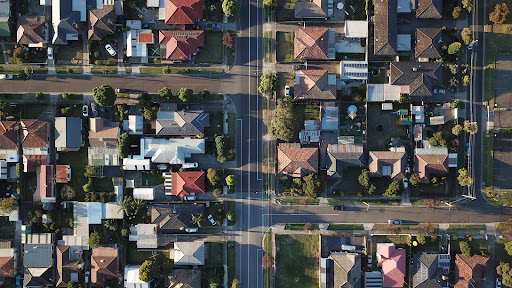 Similarly, certain types of properties are in demand at specific times of the year. For example, studio apartments or smaller dwellings do well on the market right before the start of the year as people move closer to their offices or universities.
To understand the trends for your property, do your research. Go online and survey properties similar to yours in the area. How many have been sold recently and at what prices? Is there a noticeable pattern?
This part will involve a lot of research and technical understanding so it's also best to reach out to an experienced professional to guide you through this. CT Real Estate are experts when it comes to Melbourne real estate. They can help you process through tough questions like:
Is it a buyer's or seller's market now for the area you are looking at?
What is the demand for your property type?
What is the asking price of properties similar to yours in the same area?
3. Reason To Sell
The reason you have decided to sell your home will also affect the timing of your sale.
Job relocation
Many decide to move because of a change in their job. In this case, you'd need to schedule the sale of your house to coincide with the schedule of your new job.
Property upgrade or downgrade
A change in the size of your house could be another reason you'd like to sell. Whether you're looking for a bigger space because of a growing family or you prefer to downsize after retiring, this can affect the urgency of selling your home.
Family reasons
Perhaps you're moving to be closer to family. If this is for health reasons, selling your home may require some urgency. Otherwise, if you're not rushing you could take your time selecting an appropriate home that is close enough to your family.
Financial reasons
Another common reason to sell your home is to gain a cash profit. Depending on how soon you may need the funds, this will influence the time of your sale. Do you have the flexibility of waiting it out to get the best possible price? Or are you ok to settle at a reasonable price so as to not drag the sales process on too long?
Whatever the reason, it will likely influence how quickly you need to complete your sale. Contact CT Real Estate to get advice on how you can time the sale of your home to fit into your schedule.
4. The Season To Sell
Certain cities have stronger seasonal effects vs. others, such as Sydney, Melbourne and Hobart. In these cities, when you decide to sell will play a bigger role in the selling price.
Below we look at how Melbourne property prices change according to season.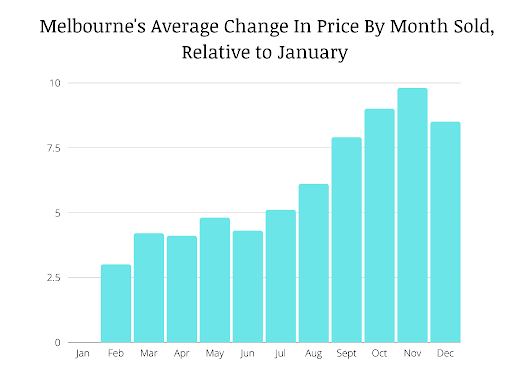 Let's go through the seasonal trends affecting sale prices throughout the year.
Spring
Typically, most people tend to observe a higher demand during spring time as the weather is more appropriate for viewing houses.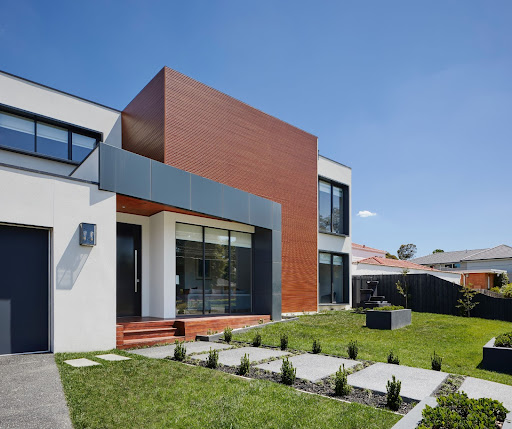 It also helps that the warmer season allows homeowners to display the best features of their property then, such as their garden in full bloom. With more buyers out and about to view properties, you will see more bids for a property which is then reflected in higher sales prices.
Summer
Summertime might be the best season to sell specific types of properties, such as beach houses or other waterfront properties. However, generally summer is seen as a bad time to sell a home. This is because summer is in the middle of the holiday season and most people are too preoccupied with this to be viewing houses.
Autumn
Other than spring, autumn is the second best time to sell your home. It's a milder season versus summer and winter, which makes viewing houses easier. While this season is not as active as spring, it is still considered a busy period in the real estate market. There are considerably fewer listings versus springtime, which means less competition for you. Not a bad option too.
Winter
Winter is generally seen as the worst period to sell your property. The weather is not appropriate for house viewing, which could be a huge deterrent in closing sales. Also, your home may not look its best in minimal natural light and wetter weather conditions.
In Melbourne, most locals escape the worst of winter by getting on a plane and vacationing in more temperate climates. Because of this, you'll find that there are less potential buyers around.
All in all, selling your property during winter is not a dead end. With less transactions happening during this season, there is less competition which would make it easier to stand out from the crowd.
If you're unsure about which season is best, contact our experienced team to discuss and weigh up your options.
The Question Of When
We've explored what you should be considering when timing the sale of your property and by now, you can see why it's tricky to pinpoint an exact time.
What's optimal will always be unique to your situation.
That said, having a knowledgeable expert provide personalised and professional advice can make all the difference to your success.
If you are considering selling your home, CT Real Estate is happy to help. With decades of experience in Melbourne's real estate, we are well equipped to assist you on all property matters.